Prairie Thunder

© Eric R. Pianka



Eastern North America was densely forested. As the early settlers moved west and entered into he central part of the continent, pioneers were surprised to encounter a vast treeless area with a dense vegetation of grasses now known as the Great Plains. They adopted the French word for meadow "Prairie" as the name for this North American grassland ecosystem. The wetter easternmost prairie supported tall bluestem grasses (dark green), whereas the drier western prairies had shorter grasses (light green). An broad ecotonal area in between became known as mixed grass prairie.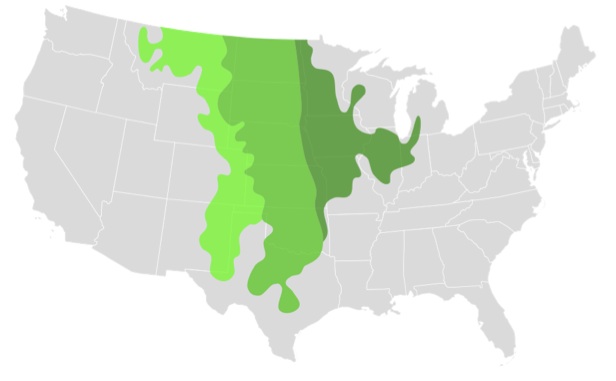 Prairies once covered most or all of what is now North Dakota, South Dakota, Nebraska, Kansas, and Oklahoma, as well as sizable portions of Montana, Wyoming, Colorado, New Mexico, Texas, Iowa, Illinois, Indiana, Missouri, Wisconsin, and western and southern Minnesota.

The region has a continental climate with moderate rainfall. Summer thunderstorms set fires by lighning, preventing trees from intruding and providing ash, which acts as a fertilizer. Each winter, dead grasses contribute organic material to upper soil horizons. Over many millenia, deep rich black topsoils were formed.


As in other parts of the world such as the steppes of Eurasia and African savannahs, herds of large grazing mammals evolved including antelope and bison. Until the end of the Pleistocene about 10,000 years ago, North America harbored a diverse megafauna, which included a large American lion, American "cheetahs" (not close kin of African cheetahs, but related to modern cougers), large bears, wooly mammoths, mastodons, dire wolves, llamas, proghorn and saiga antelopes, two camels, two large bison species, American horses, a giant condor, ground sloths, and a giant beaver. Most, with the exception of bison and pronghorns, went extinct shortly after humans arrived about 10,000 years ago. Not all of these would have lived on the prairie but most likely the lion, cheetah, wolves, llamas, antelopes, camels, bison, and horses, did. Approximately 25,000 years ago the genus Bison passed from Asia, over the Bering Strait land bridge, to North America. Fossil bison, Bison latifrons, from this era were twice the size of modern day bison, weighing around 5,000 pounds with 6 foot horn spans! Bison adapted well to the environment of the North American Great Plains, and flourished in huge numbers (an estimated 60 million animals were present in the 1700's). Their geographic range extended from Canada o Mexico and from Buffalo New York west to the Rocky Mountains.






Prairie dogs are social ground squirrels. Family groups live in extensive tunnel systems known as "towns" or warrens that are defended as territories by males against other clans. Individuals serve as sentinels, giving specialized high-pitched alarm calls to relatives when threatened by predators such as hawks, ferrets, foxes, or coyotes. Prairie dog warning calls are diverse and constitute a sort of distinctive "language" that tells others specfic information about incoming predators. They feed primarily on seeds and leaves of prairie plants and occasionally on some insects. One very aggressive male, affectionately named Napoleon by human observers, fought with adjacent families and extended his group's warren to become very large. Long after Napoleon's death, his kin group held one of the largest territories. Prairie dogs once numbered in the millions but have disappeared from extensive areas due to human encroachment. Because they can carry bubonic plague, they have been deliberately poisoned. Oil and natural gas extraction have also negatively impacted populations of prairie dogs as well as many other species. Snakes and owls used prairie dog warrens as retreats. Black footed ferrets, once close to extinction but saved by a captive breeding program and still endangered, were major predators on prairie dogs, finding their sleeping prey in their burrows at night.

American bison once numbered in the millions: great herds migrated North-South with the seasons. The great herds of native Bison assured that there was never a shortage of food for the Plains Indians who inhabited these great grasslands. Bison was not only their main diet, but also provided materials for shelter, clothing, and many other staples of Indian lives. Bison was their life, their blood, their culture, and their future; only the Great Spirit himself was put above the bison.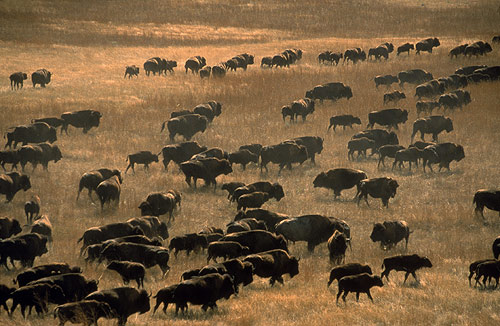 "I love the land and the buffalo and will not part with it." -- Satanta, Kiowa

"I was born upon the prairie, where the wind blew free, and there was nothing to break the light of the sun. I was born where there were no enclosures, and where everything drew a free breath. I want to die there, and not within walls. I know every stream and every wood between the Rio Grande and the Arkansas. I have hunted and lived over that country. I lived like my fathers before me, and like them, I lived happily." -- Ten Bears, Comanche