Ecosystems are usually difficult to manipulate experimentally; hence, much of modern ecology has had to rely on exploitation of "natural" experiments -- situations in which one (or a few) factor(s) affecting a community differ between two (or more) ecosystems. For this reason, ecologists have long been especially interested in islands, which constitute some of the finest
natural ecological experiments
. Different islands in an archipelago often contain different combinations of the mainland species, allowing an investigator to observe both ecological and evolutionary responses, such as niche shifts, of various component species to the presence or absence of other species (Figure 19.1).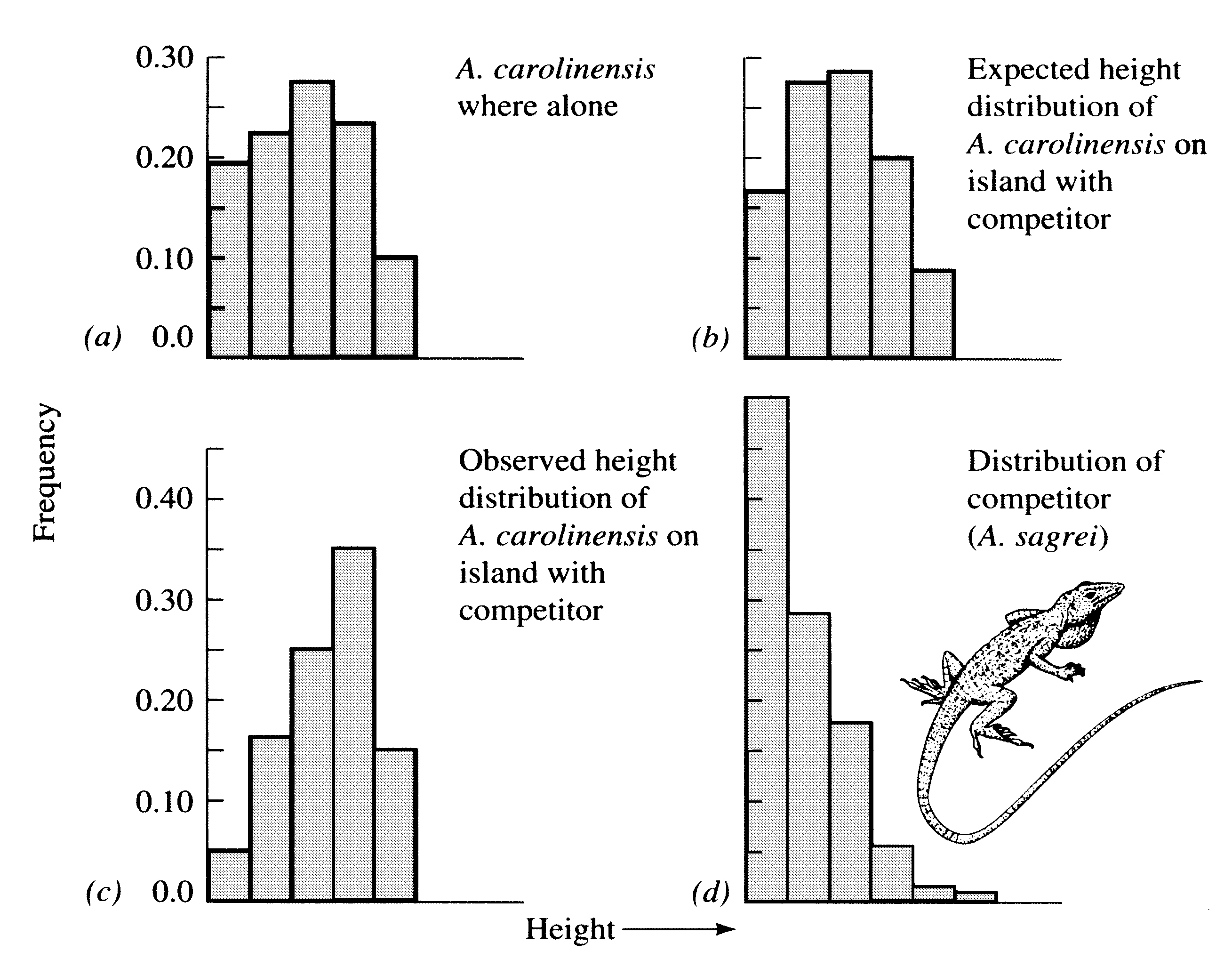 Figure 19.1. Observed and expected frequency distributions of perch heights of Anolis lizards. (a) Observed height distribution of A. carolinensis where it occurs on an island alone without competitors. (b) Expected distribution of perch heights of A. carolinensis on another island with different availabilities of various perch heights, assuming no niche shift. (c) Observed distribution of A. carolinensis on the second island with a competitor [compare with (b)]. (d) Height distribution of perches of the competing species, A. sagrei. [From Schoener (1975a).]
Islands can be exploited as natural ecological experiments in numerous other ways as well. Thus, because islands support fewer predatory species than comparable mainland habitats, they can be used to study the effects of predator exclusion. Moreover, reduced species densities on islands, such as the land birds of Bermuda, allow partial analysis of the effects of interspecific competition on the ecologies of those species that have populated an island.
Islands of a sort are widespread in the terrestrial landscape, too; a patch of forest separated from a larger stand of trees can be considered a "habitat island." Similarly, isolated lakes and mountaintops represent "islands." To a nonflying insect, plants in the desert or trees within an open forest may approximate islands in that they are separated from one another by relatively vast open spaces of a different and relatively inhospitable environment. Likewise, cattle droppings scattered about a field are islands to the animals that inhabit them (Mohr 1943). Hosts are islands to their parasites. Even a drop of water or the body of an insect may be an island to a bacterium.
Species-Area Relationships

Larger islands generally support more species of plants and animals than smaller ones. In fact, when plotted on a double log scale, the number of species in a given taxon typically increases more or less linearly with island size (Figure 19.2). In most cases, a tenfold increase in area corresponds to an approximate doubling of the number of species. The slope of a linear regression line through such points is designated as that taxon's z-value in the particular island system. In a variety of taxa on many different island systems (Table 19.1), z-values generally range from about 0.24 to about 0.33. The z-value is the exponent in the equation

where S is the number of species, C is a constant that varies between taxa and from place to place, and A is the area of the island(s) concerned. Taking logarithms and rearranging, one obtains a linear equation in which z is the slope:

Large values of z result from topographic diversity and spatial replacement of species, or "islands within islands"; lower values arise with reduced replacement of species in space, as on very homogeneous islands, continents, or subsamples of large islands (see subsequent discussion). Area in itself is probably not the primary factor affecting species density in most situations, but it presumably operates indirectly through increasing the variety of available habitats. However, area can directly affect species densities in some situations.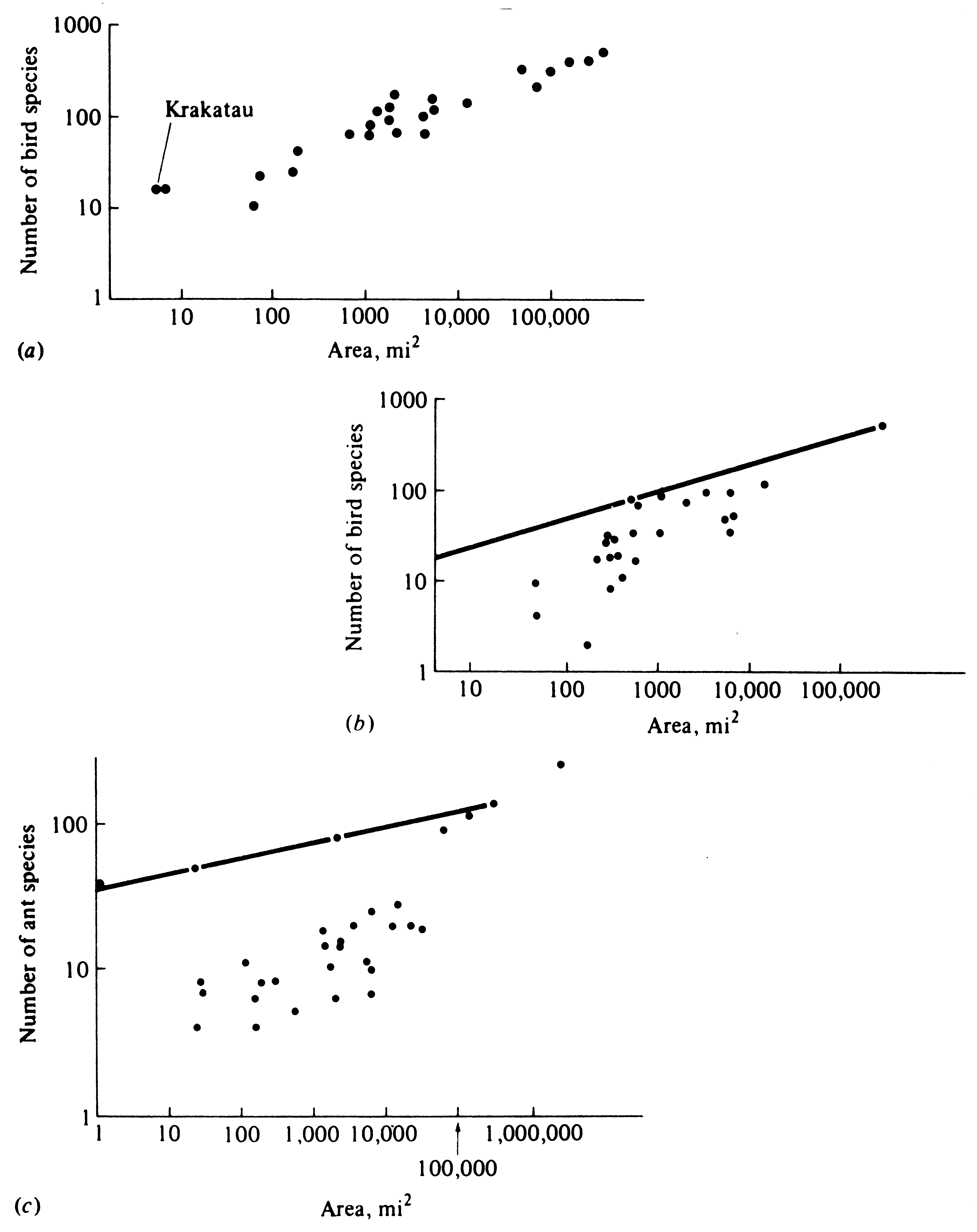 Figure 19.2. Various species-area relationships. (a) Numbers of species of land and freshwater birds on islands of the Sunda group in southeast Asia, with the Philippines and New Guinea. Krakatau is plotted at the extreme left. (b) Numbers of species of land and freshwater birds on various often remote islands in the South Pacific, including the Moluccas, Melanesia, Micronesia, Polynesia, and Hawaii. The line is drawn through the two islands (Kei and New Guinea) nearest to source regions to demonstrate the degree of departure of species densities on the more remote islands. (c) Number of species of ponerine ants in the faunas of various Mollucan and Melanesian islands. The line represents the number of species with increasing area in subsamples of New Guinea; points represent smaller islands. Note that the islands support fewer species than a comparable sized portion of New Guinea but that the rate of increase of species with area is greater among the islands than it is within New Guinea. [(a, b) From MacArthur and Wilson (1967). The Theory of Island Biogeography. Copyright © 1967 by Princeton University Press. Reprinted by permission of Princeton University Press. (c) From Wilson (1961).]
Table 19.1 Estimated z Values for Various Terrestrial Plants and Animals on Different Island Groups
__________________________________________________________________
__________________________________________________________________
Carabid beetles
West Indies
0.340
Amphibians and reptiles
West Indies
0.301
Breeding land and freshwater birds
West Indies
0.237
Breeding land and freshwater birds
East Indies
0.280
Breeding land and freshwater birds
East-Central Pacific
0.303
Breeding land and freshwater birds
Islands of Gulf of Guinea
0.489
Land vertebrates
Islands of Lake Michigan
0.239
Land plants
Galápagos Islands
0.325
__________________________________________________________________
Source: From MacArthur and Wilson (1967).
An area of mainland habitat comparable to and equal in size to an offshore island almost invariably supports more species, especially those at higher trophic levels, than the island does. The number of species in samples of a continental system also increases with the size (area) of the subsample, although not as rapidly as on islands (Figure 19.2). Typically, z-values in mainland situations range from about 0.12 to about 0.17. This difference arises because an island is a true "isolate," whereas a similar sized patch of mainland habitat is only a "sample"; rare species can occur in the mainland sample both due to migration from other areas and because areas immediately adjacent to the subsample also support other members of broad-ranging species. A mountain lion requiring a 20-km2 territory would be unlikely to maintain a viable population on a small island of, say, less than 30 to 40 km2, whereas these same cats are able to survive and replace themselves in a similar sized subsample of a larger landmass. This is why islands tend to support fewer species at higher trophic levels than mainland areas do.
Equilibrium Theory of Island Biogeography

For many years, islands were considered to be in some sense "impoverished" of species both because of the obvious problems species have in colonizing them and because islands typically support fewer species than a comparable area of mainland habitat. However, the regularity of species-area patterns led MacArthur and Wilson (1963, 1967) to examine the possibility that islands might in fact be supporting as many species as possible [this idea was first considered by Munroe (1948)].

MacArthur and Wilson reasoned that the rate of immigration of new species to an island should decrease as the number of species on that island increases. The immigration rate must drop to zero as the species density of the island reaches the total number of species in the "species pool" available for colonization of the island at which no immigrant can be a new species. (The species pool corresponds to the total number of species in source areas surrounding a particular island system.) MacArthur and Wilson argue that the rate of extinction of species already present on an island should increase as the number of species on an island increases; this seems likely because as more species invade an island, average population size must decrease and both the intensity of interspecific competition and the incidence of competitive exclusion should increase. Moreover, there are more species to go extinct.

When the rate of immigration equals the rate of extinction (Figure 19.3), existing species go extinct at the same rate that new ones invade; thus, species density reaches a dynamic equilibrium. Although species density stays constant, the continual turnover of species means that the actual composition of species on an island can be changing.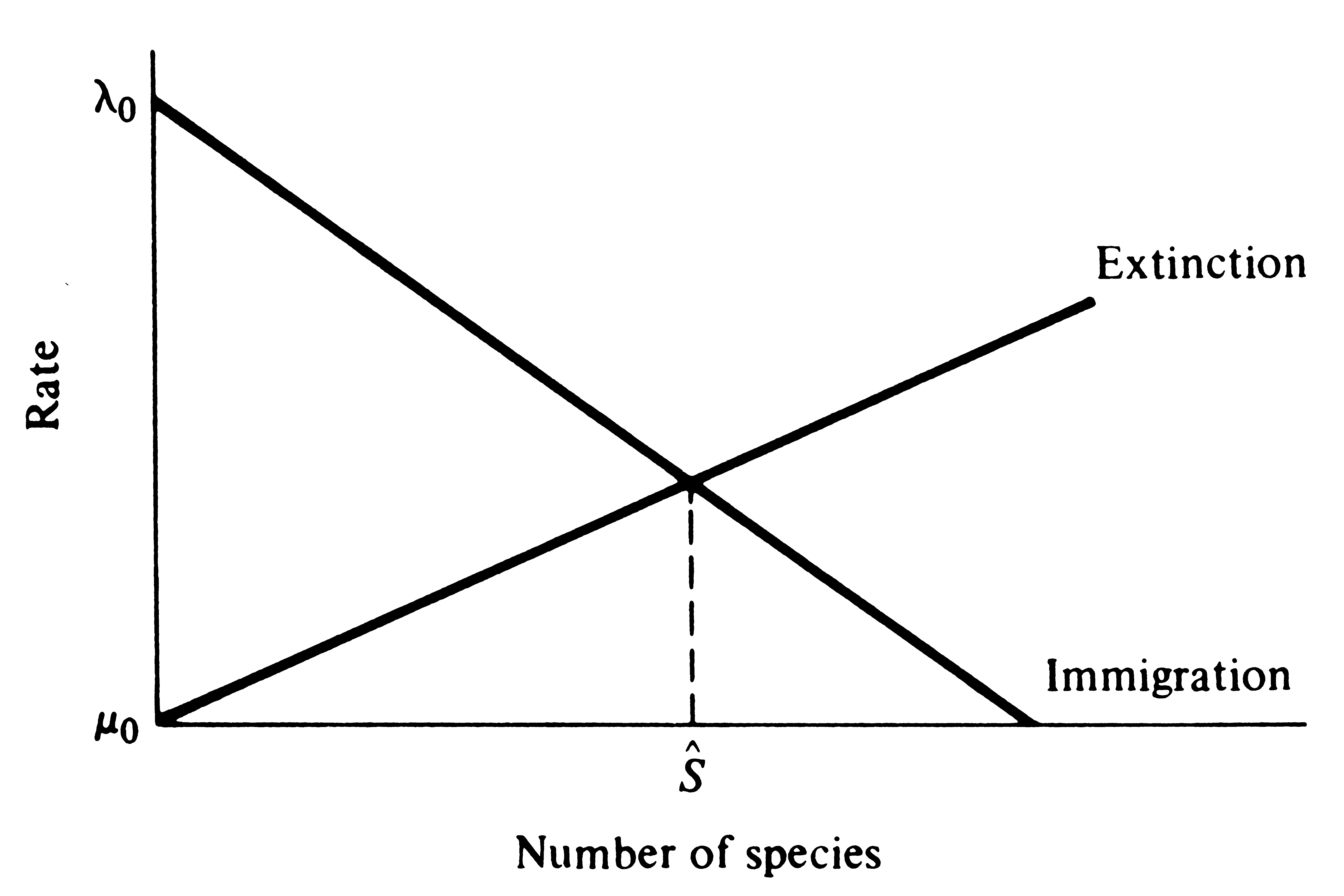 Figure 19.3. Illustration of the equlibrium theory for island species densities, with the immigration rate of new species falling and the rate of extinction of existing species rising
as the total number of species on an island increases. At equilibrium, immigration just balances extinction and
S*
different species exist on the island. The composition of the island's biota may change as some of the
existing species go extinct and are replaced by other, different species.
MacArthur and Wilson's equilibrium theory is somewhat analogous to the model of the Verhulst-Pearl logistic equation for growth processes within a population (see Chapter 9); thus, number of individuals (density), N, is replaced by the number of species (species density), S, and density-dependent birth and death rates, bN and dN, are replaced by a falling immigration rate, λ, and a rising rate of extinction, μ, as the species density of an island increases. As a first approximation, we might assume that rates of immigration λ and extinction μ vary linearly with species density according to the equations
where λ0 is the rate of immigration with no species present on the island and α and β represent rates of change in rates of immigration and extinction, respectively, as species density increases (Figure 19.4). [MacArthur and Wilson (1963, 1967) point out that this assumption of linearity is not as stringent as it might at first seem, because transformations of the ordinate may allow simultaneous straightening of immigration and extinction curves.] At equilibrium, Sˆ or S*, the rate of immigration must exactly equal the rate of extinction -- that is, λS must equal μS. Setting equation (3) equal to (4),
and rearranging, one obtains an expression for the number of species at equilibrium
Equation (6) is, of course, identical in form to the expression for carrying capacity K in the logistic equation which is K = r/(x + y) [see also equation (9) in Chapter 9].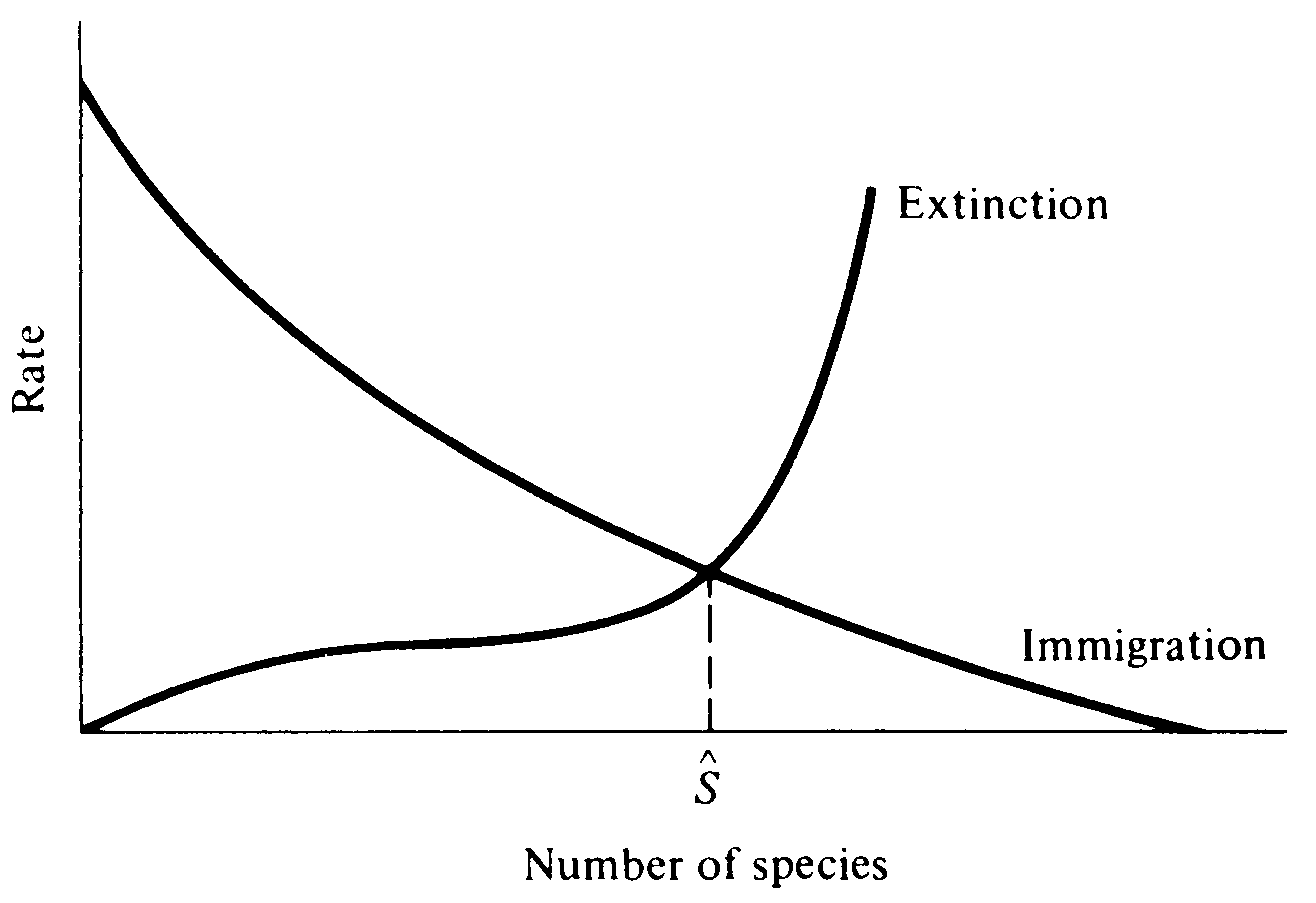 Figure 19.4. Immigration and extinction rates that change linearly with island species density. Equilibrium species density,
S
*, is a simple function
of the slopes and intercepts of the two lines.
At equilibrium, the total rate of immigration of species must equal the total extinction rate. However, because species going extinct will undoubtedly often differ from those that successfully invade an island, the composition of an island's biota will be continually changing, even at equilibrium.
As previously developed, λ's and μ's represent total rates of immigration and extinction and thus indicate little about the relative rates per species either already present on the island or available in the species pool (P). The average rate of immigration per species, λ, and the average rate of extinction per species, μ, can be obtained by dividing by, respectively, the number of species not yet on the island (P - S) and the number already present on the island (S):
    λ= λS / (P - S)
or
λS = λ (P - S)
(7)
Again, at equilibrium, total extinction rate (μS) must equal the total rate of immigration (λS); that is, λS = μS, or in terms of the average rates per species (which are the rates with which an ecologist will usually be working):
Solving for the equilibrium number of species, S*, gives
Equation (10) demonstrates that S* increases with increasing P and λ and decreases with increased μ. Notice also that λP is λ0 [compare equation (10) with equation (6)] and that λ is identical to α in equation (3), whereas μ is β in equation (4).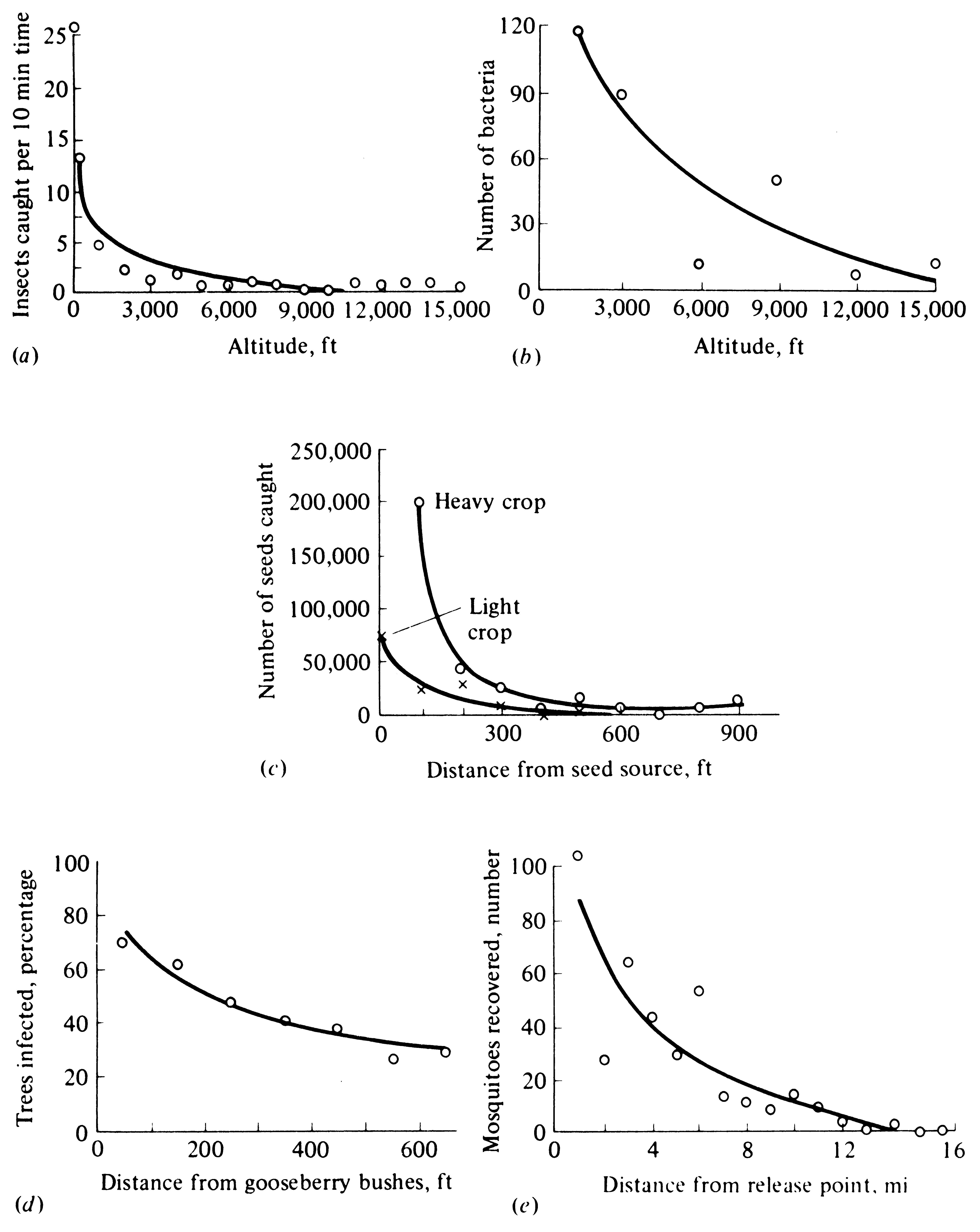 Because dispersal falls off more or less exponentially with distance (Figure 19.5), MacArthur and Wilson (1963, 1967) reasoned that immigration rates should decrease with increasing distance from source areas (Figure 19.6). Further, they argued that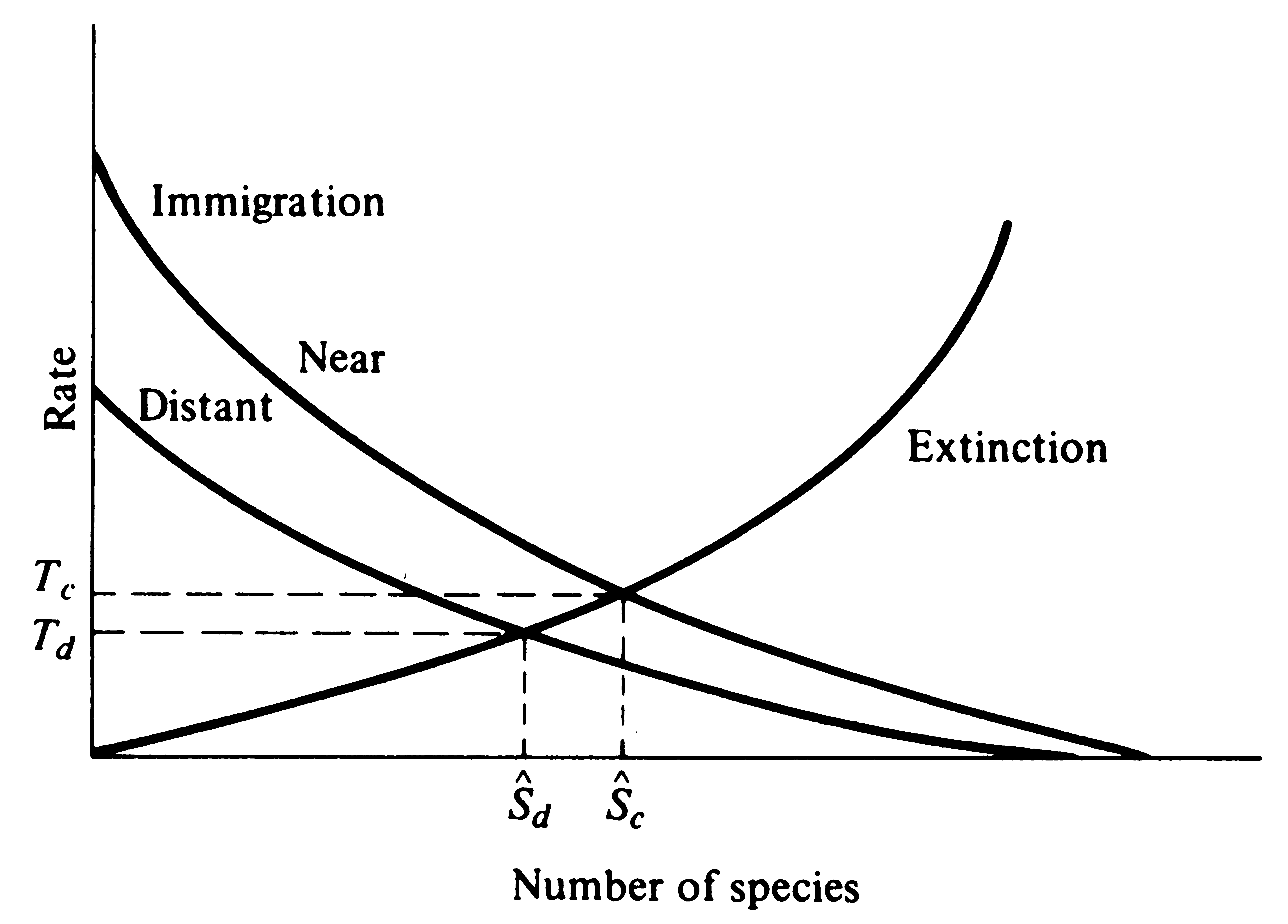 Figure 19.6. Immigration rates should decrease with increasing distance from source areas so that distant islands should reach equilibrium with fewer species, Sd*, than close-in islands, Sc*, all else being equal. Moreover, turnover rates should also be higher on nearby islands than on comparable but more distant islands (Tc > Td).
rates of extinction should be largely unaffected by distance from source areas per se but should instead generally increase with decreasing island size because smaller islands support smaller, more tenuous populations (Figure 19.7). [Because they present a smaller "target" for potential invaders, smaller islands might also have slightly lower immigration rates than other equivalent but larger islands. But this change should be minor compared with the expected decline due to the exponential decay in the number of immigrants with distance (see Figure 19.5).] Note also that on islands equidistant from source areas, rates of species turnover should be higher on small islands.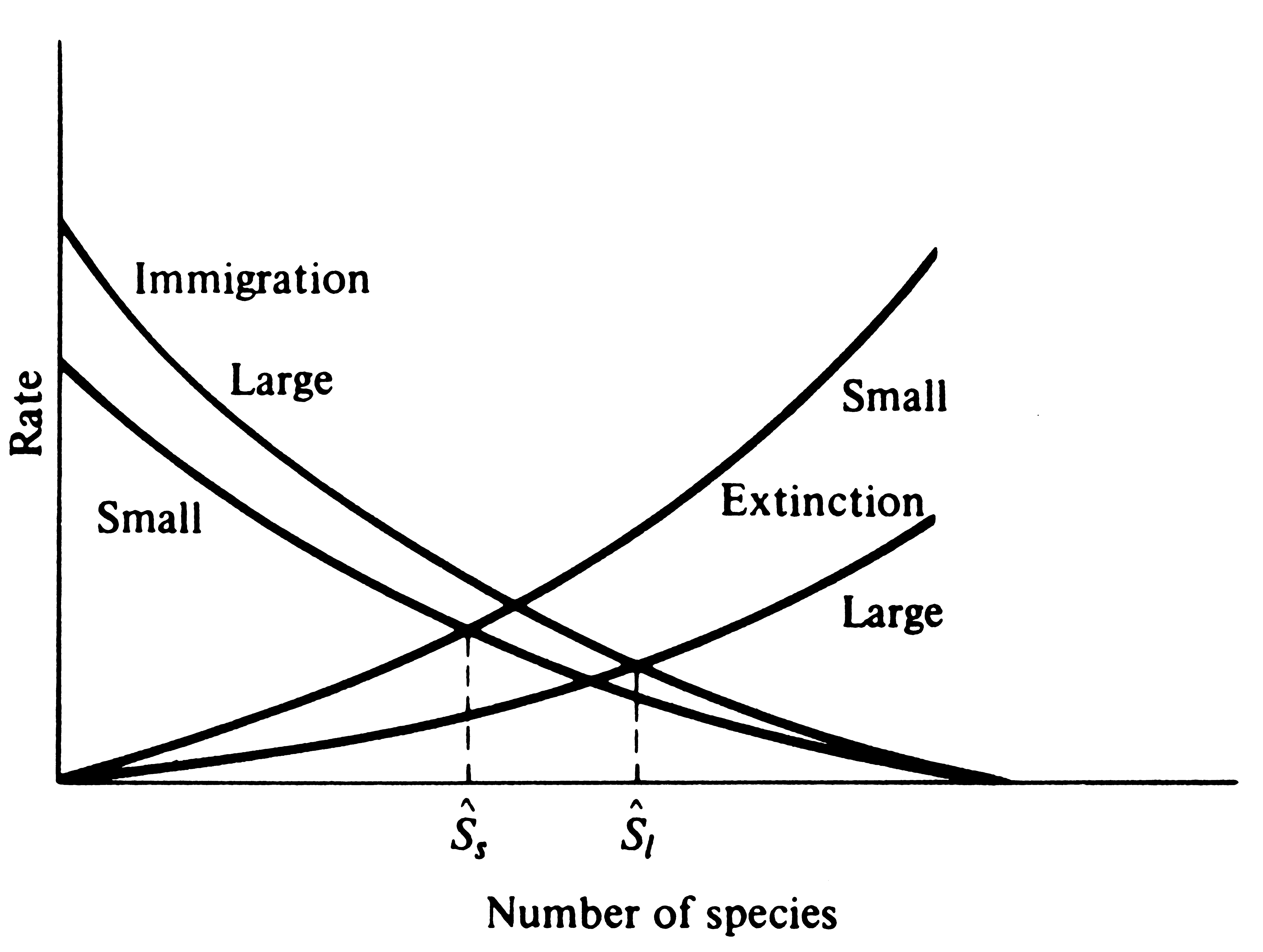 Figure 19.7. Extinction rates should be little affected by distances from source areas, but they should often vary inversely with island size and/or complexity. Immigration rates may also be slightly higher on larger islands because they present a larger "target" for potential invaders. Thus, all else being equal, a small island should equilibrate with fewer species, Ss*, than a larger island, Sl*. Also notice that turnover rate is higher on the small island than on the large one.
than on large ones (turnover rate should thus vary inversely with equilibrium species density). Simple islands with little topographic relief and relatively few different habitats should have generally higher extinction rates than more complex and more diverse islands with a greater variety of habitats, because the latter would provide a greater variety of immigrants with suitable opportunities for successful invasion and persistence on the island. Finally, clumped islands such as archipelagos should have higher rates of immigration than more scattered or isolated islands due to interchanges of plants and animals between islands.
Some predictions of equilibrium theory have now been supported by observations; others, especially those involving turnover rates, have proven to be difficult to test.
Islands as Ecological Experiments: Some Examples
Selected References

Island Biogeography

Carlquist (1965); Gilbert (1980); MacArthur and Wilson (1963, 1967); Maguire (1963, 1971); Whittaker (1998); Williamson (1981); Wilson (1969); Wilson and Bossert (1971).

Conservation Biology

Falk (1992); Fiedler and Jain (1992); Haydon and Pianka (1999); Kareiva, Kingsolver and Huey (1993); Lande (1988); Meffe and Carroll (1994); Menges (1992); Mittermeier et al. (1998); Myers (1988, 1990); Oldfield (1995); Pease and Lande (1995); Pimm (1991); Pimm and Askins (1995); Primack (1998); Simberloff (1992, 1995); Soulé (1986, 1987); Whitmore and Sayer (1992).

Metapopulations

Bengtsson (1989); Boorman and Levitt (1973); Caswell and Cohen (1991); DeAngelis and Waterhouse (1987); Ebenhard (1991); Gilpin and Hanski (1991); Gotelli (1991); Griffis and Jaeger (1998); Hanski (1982, 1998, 1999); Hanski and Gilpin (1991, 1997); Harrison (1991); Harrison et al. (1988); Hassell and May (1990); Hastings (1991); Hastings and Wolin (1989); Haydon and Pianka (1999); Holyoak and Lawler (1996a, 1996b); Karieva 1990; Levins (1969, 1970); Pulliam (1988); Pulliam and Danielson (1991); Sjogren (1991); Verboom et al. (1991).