Limiting Factors and Tolerance Curves
Ecological events and their outcomes, such as growth, reproduction, photosynthesis, primary production, and population size, are often regulated by the availability of one or a few factors or requisites in short supply, whereas other resources and raw materials present in excess may go partially unused. This principle has become known as the "law of the minimum" (Liebig 1840). For instance, in arid climates, primary production (the amount of solar energy trapped by green plants) is strongly correlated with precipitation (Figure 5.1); here water is a "master limiting factor." Of many different factors that can be limiting, frequently among the most important are various nutrients, water, and temperature.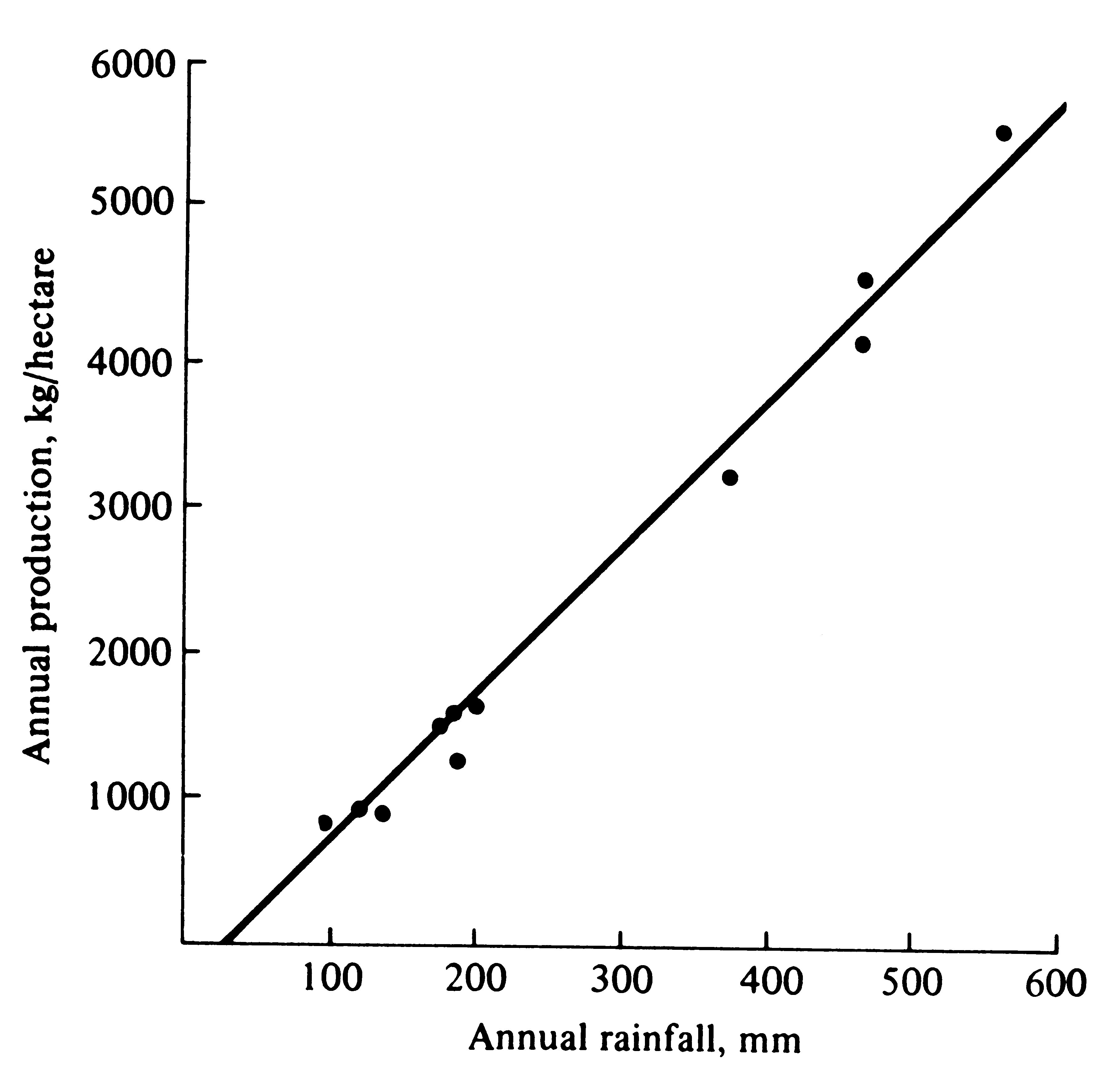 Figure 5.1. An example of the strong correlation between annual rainfall and primary production along a precipitation gradient in a desert region of Namibia. [Adapted from Odum (1959) after Walter (1939).]
When considering populations, we often speak of those that are food-limited, predator-limited, or climate-limited. Populations may be limited by other factors as well; for example, density of breeding pairs of blue tits (Parus caeruleus) in an English woods was doubled by the addition of many new nesting boxes (Lack 1954, 1966), providing an indication that nest sites were limiting. However, limiting factors are not always so clear-cut but may usually interact so that a process is limited simultaneously by several factors, with a change in any one of them resulting in a new equilibrium. For instance, both increased food availability and decreased predation pressures might result in a larger population size.
A related concept, developed by Shelford (1913b), is now known as the "law of tolerance." Too much or too little of anything can be detrimental to an organism. In the early morning, a desert lizard finds itself in an environment that is largely too cold, whereas later in the day its environment is too hot. The lizard compensates somewhat for this by spending most of its time during the early morning in sunny places, whereas later on most of its activities take place in the shade. Each lizard has a definite optimal range of temperature, with both upper and lower limits of tolerance. More precisely, when measures of performance (such as fitness, survivorship, or foraging efficiency) are plotted against important environmental variables, bell-shaped curves usually result (for examples, see Figures 5.2 and 5.8).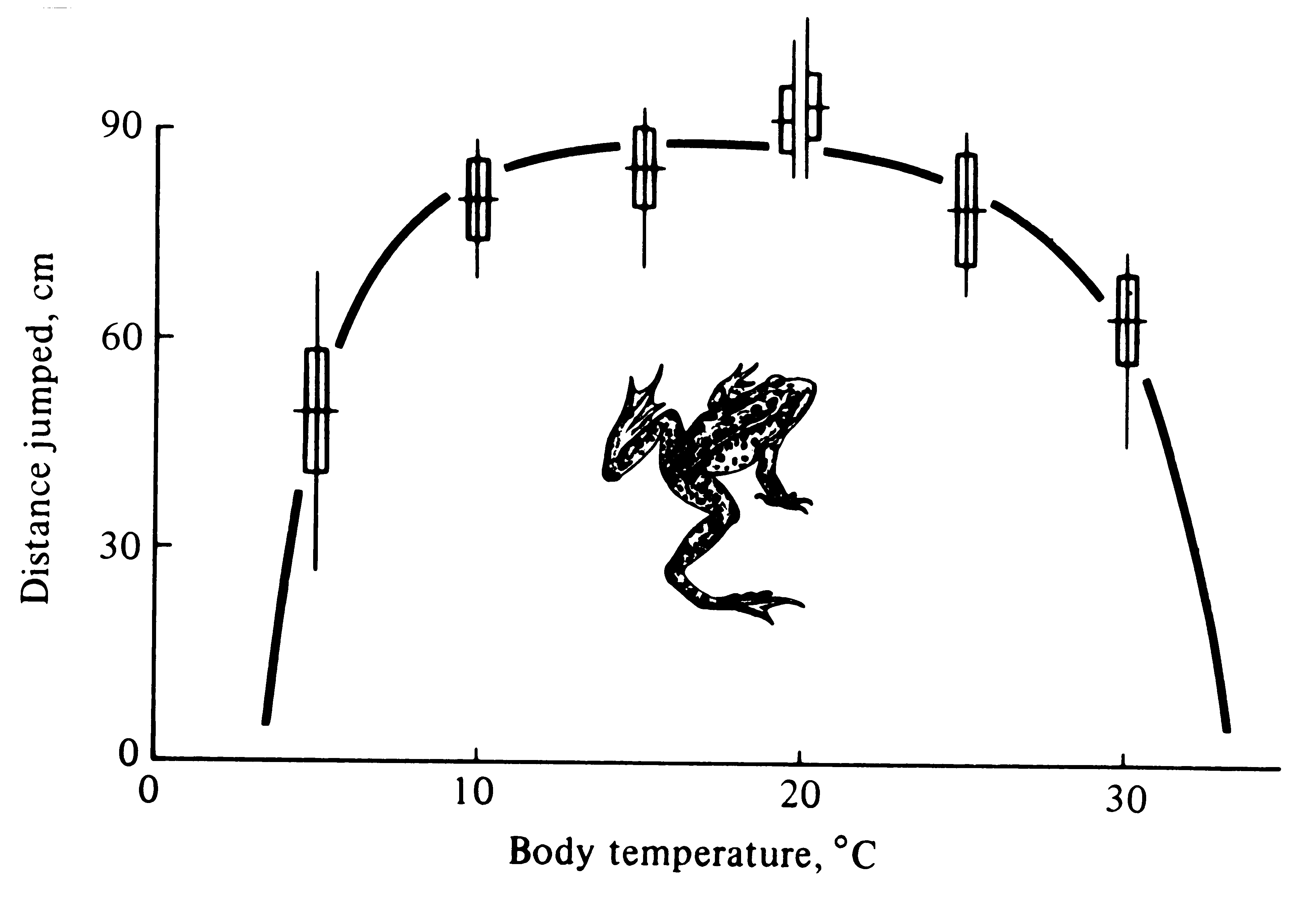 Figure 5.2. Distance jumped by a frog as a function of its body temperature. Notice that performance diminishes at both low and high temperatures. [From Huey and Stevenson (1979).]
Organisms can be viewed as simple input-output systems, with foraging or photosynthesis providing an input of materials and energy that are in turn "mapped" into an output consisting of progeny. Fairly extensive bodies of theory now exist both on optimal foraging and reproductive tactics (see next chapter). In optimal foraging theory, the "goal" usually assumed to be maximized is energy uptake per unit time (successful offspring produced during an organism's lifetime would be a more realistic measure of its foraging ability, but fitness is exceedingly difficult to measure). Similarly, among organisms without parental care, reproductive effort has sometimes been estimated by the ratio of calories devoted to eggs or offspring over total female calories at any instant (rates of uptake versus expenditure of calories have unfortunately not yet infiltrated empirical studies of reproductive tactics). To date, empirical studies of resource partitioning have been concerned largely with "input" phenomena such as overlap in and efficiency of resource utilization and have neglected to relate these to "output" aspects. In contrast, empirical studies of reproductive tactics have done the reverse and almost entirely omitted any consideration of foraging. Interactions and constraints between foraging and reproduction have barely begun to be considered. A promising area for future work will be to merge aspects of optimal foraging with optimal reproductive tactics to specify rules by which input is translated into output; optimal reproductive tactics ("output" phenomena) surely must often impose substantial constraints upon "input" possibilities and vice versa.
Resource Budgets and the Principle of Allocation
Any organism has a limited amount of resources available to devote to foraging, growth, maintenance, and reproduction. The way in which an organism allocates its time and energy and other resources among various conflicting demands is of fundamental interest because such apportionments provide insight into how the organism copes with and conforms to its environment. Moreover, because any individual has finite resource and energy budgets, its capacity for regulation is necessarily limited. Organisms stressed along any one environmental variable are thus able to tolerate a lesser range of conditions along other environmental variables. Various tolerance and performance curves (Figure 5.2) are presumably subject to certain constraints. For example, their breadth (variance) usually cannot be increased without a simultaneous reduction in their height and vice versa (Levins 1968). This useful notion of trade-offs, known as the principle of allocation, has proven to be quite helpful in interpreting and understanding numerous ecological phenomena.
As an example of allocation, imagine an animal of a given size and mouth-part anatomy. A certain size of prey item is optimal, whereas other prey are suboptimal because they are either too large or too small for efficient capture and swallowing. Any given animal has its own "utilization curve" that indicates the actual numbers of prey of different sizes taken per unit time under particular environmental conditions. In an idealized, perfectly stable, and infinitely productive environment, a utilization curve might become a spike with no variance, with the organism using only its most optimal prey resource type. In actuality, limited and changing availabilities of resources, in both time and space, result in utilization curves with breadth as well as height. In terms of the principle of allocation, an individual with a generalized diet adapted to eat prey of a wide range of available sizes presumably is not so effective at exploiting prey of intermediate size as another, more specialized, feeder. In other words, a jack-of-many-trades is a master of none. We will consider this subject in more detail later.
Time, Matter, and Energy Budgets
Time, matter, and energy budgets vary widely among organisms. For example, some creatures allot more time and energy to reproduction at any instant than do others. Varying time and energy budgeting is a potent means of coping with a changing environment while retaining some degree of adaptation to it. Thus, many male songbirds expend a great deal of energy on territorial defense during the breeding season but little or none at other times of the year. Similarly, in animals with parental care, an increasing amount of energy is spent on growing offspring until some point when progeny begin to become independent of their parents, whereupon the amount of time and energy devoted to them decreases. Indeed, adult female red squirrels, Tamiascurus, at the height of lactation consume an average of 323 kilocalories of food per day compared with an average daily energy consumption of a similar-sized adult male of only about 117 kilocalories (C. Smith 1968). The time budgets of these squirrels also vary markedly with the seasons.
In a bad dry year, many annual plants "go to seed" while still very small, whereas in a good wet year, these plants grow to a much larger size before becoming reproductive; presumably more seeds are produced in good years, but perhaps none (or very few) would be produced in a bad year if individuals attempted to grow to the sizes they reach in good years.
An animal's time and energy budget provides a convenient starting point for clarifying some ways in which foraging influences reproduction and vice versa. Any animal has only a certain finite period of time available in which to perform all its activities, including foraging and reproduction. This total time budget, which can be considered either on a daily basis or over the animal's lifetime, will be determined both by the diurnal rhythm of activity and by the animal's ability to "make time" by performing more than one activity at the same time (such as a male lizard sitting on a perch, simultaneously watching for potential prey and predators while monitoring mates and competing males). Provided that a time period is profitable for foraging (expected gains in matter and energy exceed inevitable losses from energetic costs of foraging), any increase in time devoted to foraging clearly will increase an animal's supply of matter and energy. However, necessarily accompanying this increase in matter and energy is a concomitant decrease in time available for nonforaging activities such as mating and reproduction. Thus, profits of time spent foraging are measured in matter and energy while costs take on units of time lost. Conversely, increased time spent on nonforaging activities confers profits in time while costs take the form of decreased energy availability. Hence, gains in energy correspond to losses in time, while dividends in time require reductions in energy availability. (Of course, risks of foraging and reproduction also need to be considered.)
The preceding arguments suggest that optimal allocation of time and energy ultimately depends on how costs in each currency vary with profits in the opposite. However, because units of costs and profits in time and energy differ, one would like to be able to convert them into a common currency. Costs and profits in time might be measured empirically in energetic units by estimating the net gain in energy per unit of foraging time. If all potential foraging time is equivalent, profits would vary linearly with costs; under such circumstances, the loss in energy associated with nonforaging activities would be directly proportional to the amount of time devoted to such activity. Optimal budgeting of time and energy into foraging versus nonforaging activities is usually profoundly influenced by various circadian and seasonal rhythms of physical conditions, as well as those of predators and potential prey. Clearly, certain time periods favorable for foraging return greater gains in energy gathered per unit time than other periods. Risks of exposure to both harsh physical conditions and predators must often figure into the optimal amount of time to devote to various activities. Ideally, one would ultimately like to measure both an animal's foraging efficiency and its success at budgeting time and energy by its lifetime reproductive success, which would reflect all such environmental "risks."
Foraging and reproductive activities interact in another important way. Many organisms gather and store materials and energy during time periods that are unfavorable for successful reproduction but then expend these same resources on reproduction at a later, more suitable, time. Lipid storage and utilization systems obviously facilitate such temporal integration of uptake and expenditure of matter and energy. This temporal component greatly complicates the empirical measurement of reproductive effort.
Prey density can strongly affect an animal's time and energy budget. Gibb (1956) watched rock pipits, Anthus spinoletta, feeding in the intertidal along the English seacoast during two consecutive winters. The first winter was relatively mild; the birds spent an average of 6-1/2 hours feeding, 1-3/4 hours resting, and 3/4 hour fighting in defense of their territory (total daylight slightly exceeded 9 hours). The next winter was much harsher and food was considerably scarcer; the birds spent 8-1/4 hours feeding, 39 minutes resting, and only 7 minutes on territorial defense! Apparently the combination of low food density and extreme cold (endotherms require more energy in colder weather) demanded that over 90 percent of the bird's waking hours be spent feeding and no time remained for frivolities. This example also illustrates that food is less defendable at lower densities, as indicated by reduced time spent on territorial defense. Obviously, food density in the second year was near the lower limit that would allow survival of rock pipits. When prey items are too sparse, encounters may be so infrequent that an individual cannot survive. Gibb (1960) calculated that to balance their energy budget during the winter in some places, English tits must find an insect on the average once every 2-1/2 seconds during daylight hours.
Time and energy budgets are influenced by a multitude of other ecological factors, including body size, mode of foraging, mode of locomotion, vagility, trophic level, prey size, resource density, environmental heterogeneity, rarefaction, competition, risks of predation, and reproductive tactics.
Leaf Tactics
Leaves take on an almost bewildering array of sizes and shapes: some leaves are deciduous, others evergreen; some are simple, others compound; and their actual spatial arrangement on a given plant differs considerably both within and between species (Figure 5.3).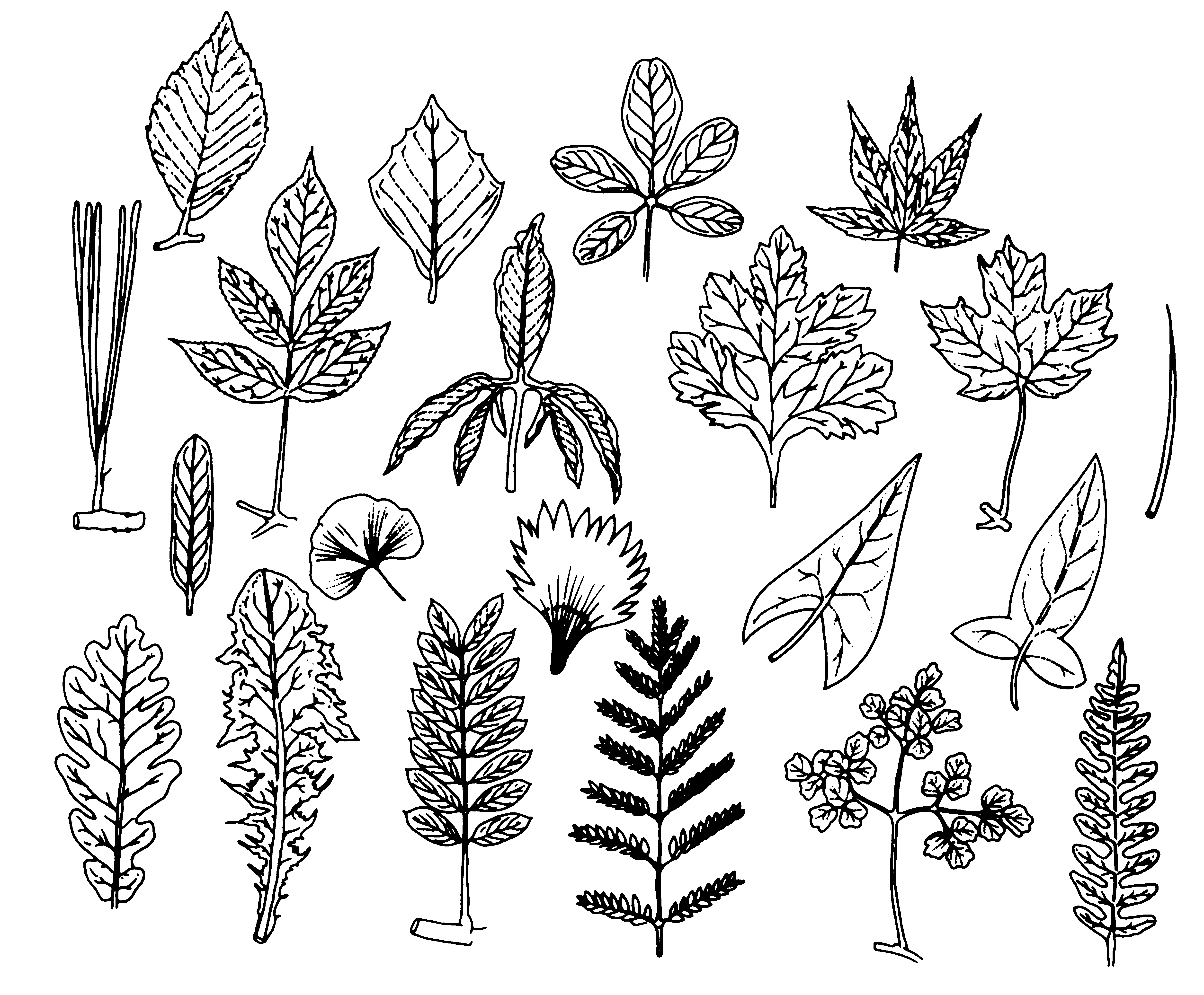 Figure 5.3. Leaves have evolved a spectacular variety of shapes and sizes, yet repeatable patterns do occur.
Some leaves are much more costly to produce and maintain than others (elementary economic considerations dictate that any given leaf must pay for itself plus generate a net energetic profit). Presumably, this great diversity of leaf tactics is a result of natural selection maximizing the lifetime reproductive success of individual plants under diverse environmental conditions. Leaf tactics are influenced by many factors that include light, water availability, prevailing winds, and herbivores. When grown in the shade, individuals of many species grow larger, less dissected leaves than when grown in the sun. Similarly, shade-tolerant plants of the understory usually have larger and less lobed leaves than canopy species. Similar types of leaves often evolve independently in different plant lineages subjected to comparable climatic conditions at different geographic localities, especially among trees (Bailey and Sinnot 1916; Ryder 1954; Stowe and Brown 1981). Compound leaves, thought to conserve woody tissue, with small leaflets are found in hot dry regions, whereas those with larger leaflets occur under warm moist conditions. Lowland wet tropical rain forest trees have large evergreen leaves with nonlobed or continuous margins, chaparral plants tend to have small sclerophyllous evergreen leaves, arid regions tend to support leafless stem succulents such as cacti or plants with entire leaf margins (especially among evergreens), plants from cold wet climates often have notched or lobed leaf margins, and so on. Such repeated patterns of leaf size and shape suggest that a general theory of leaf tactics is possible.
Several models for optimal leaf size under differing environmental conditions have been developed. Efficiency of water use (grams of carbon dioxide assimilated per gram of water lost) was the measure of plant performance maximized by Parkhurst and Loucks (1971). A similar model for size and shape of vine leaves was developed by Givnish and Vermeij (1976). Even these relatively simple models predict several observed patterns in leaf size, such as large leaves in warm, shady, wet places and small leaves in colder areas or warmer and sunnier locales (Figure 5.4).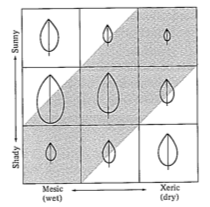 Figure 5.4. Patterns of leaf sizes predicted under differing environmental conditions from wet to dry (mesic to xeric) and shady to sunny. The shaded region represents conditions likely to prevail in nature. [From Givnish and Vermeij (1976). Copyright © 1976 by The University of Chicago Press.]
The evergreen versus deciduous dichotomy can be approached similarly using cost-benefit arguments (Orians and Solbrig 1977; Miller 1979). In considering leaf tactics of desert plants, Orians and Solbrig contrast leaf types along a continuum ranging from the relatively inexpensive deciduous "mesophytic" leaf to the more costly evergreen "xerophytic" leaf. Mesophytic leaves photosynthesize and transpire at a rapid rate and hence require high water availability (low "soil water potential"). In deserts, such plants grow primarily along washes. In contrast, xerophytic leaves cannot photosynthesize as rapidly when abundant water is available, but they can extract water from relatively dry soil. Each plant leaf tactic has an advantage either at different times or in different places, thereby promoting plant life form diversity. During wet periods, plants with mesophytic leaves photosynthesize rapidly, but under drought conditions, they must drop their leaves and become dormant. During such dry periods, however, the slower photosynthesizers with xerophytic leaves are still able to function by virtue of their ability to extract water from dry soils. Of course, all degrees of intermediate leaf tactics exist, each of which may enjoy a competitive advantage under particular conditions of water availability (Figure 5.5). In a predictable environment, net annual profit per unit of leaf surface area determines the winning phenotype. Even a relatively brief wet season could suffice to give mesophytic leaves a higher annual profit (which accounts for the occurrence of these plant life forms in deserts). Figure 5.5. Probable relationship between efficiency of photosynthesis and water availability among different types of leaves. The most xerophytic leaf performs best under conditions of low water availability (zone a), whereas the most mesophytic leaf does best when soils are wet (zone d). Intermediate types are superior under intermediate conditions of water availability. Shaded areas indicate superiority of various leaf types under different conditions of soil moisture availability. [Adapted from Orians and Solbrig (1977). Copyright © 1977 by The University of Chicago Press.]
In an interesting discussion of leaf arrangement and forest structure, Horn (1971, 1975a, 1976) distinguished "monolayers" from "multilayers." Each plant in the multilayer of a forest (usually sunnier places such as the canopy) has leaves scattered throughout its volume at several different levels, whereas monolayer plants have essentially a single blanket or shell of leaves. Plants in the multilayer gain from a geometry that allows some light to pass through to their own leaves at lower levels. Horn points out that lobing facilitates passage of light and that such plants do well in the sun (in the shade, inner leaves may respire more than they photosynthesize). In contrast, the optimal tree design in the shade is a monolayer in which each leaf typically intercepts as much light as possible (leaves are large and seldom lobed). Moreover, slow-growing monolayered plants eventually outcompete fast-growing multilayered plants that persist by regular colonization of newly vacated areas created by continual disturbance (Horn 1976).
Foraging Tactics and Feeding Efficiency
Foraging tactics involve the ways in which animals gather matter and energy. As explained above, matter and energy constitute the profits gained from foraging, in that they are used in growth, maintenance, and reproduction. But foraging has its costs as well; a foraging animal may often expose itself to potential predators, and much of the time spent in foraging is rendered unavailable for other activities, including reproduction. An optimal foraging tactic maximizes the difference between foraging profits and their costs. Presumably, natural selection, acting as an efficiency expert, has often favored such optimal foraging behavior. Consider, for example, prey of different sizes and what might be termed "catchability." How great an effort should a foraging animal make to obtain a prey item with a given catchability and of a particular size (and therefore matter and energy content)? Clearly, an optimal consumer should be willing to expend more energy to find and capture food items that return the most energy per unit of expenditure upon them. Moreover, an optimal forager should take advantage of natural feeding routes and should not waste time and energy looking for prey either in inappropriate places or at inappropriate times. What is optimal in one environment is seldom optimal in another, and an animal's particular anatomy strongly constrains its optimal foraging tactic. Evidence is considerable that animals actually do attempt to maximize their foraging efficiencies, and a substantial body of theory on optimal foraging tactics exists.
Numerous aspects of optimal foraging theory are concisely summarized in an excellent chapter, "The Economics of Consumer Choice," by MacArthur (1972). He makes several preliminary assumptions: (a) Environmental structure is repeatable, with some statistical expectation of finding a particular resource (such as a habitat, microhabitat, and/or prey item). (b) Food items can be arranged in a continuous and unimodal spectrum, such as size distributions of insects (Schoener and Janzen 1968; Hespenhide 1971). (This assumption is clearly violated by foods of some animals, such as monophagous insects or herbivores generally, because plant chemical defenses are typically discrete; see Chapter 15) (c) Similar animal phenotypes are usually closely equivalent in their harvesting abilities; an intermediate phenotype is thus best able to exploit foods intermediate between those that are optimal for two neighboring phenotypes (see Chapter 13). Conversely, similar foods are gathered with similar efficiencies; a lizard with a jaw length that adapts it to exploit 5-mm-long insects best is only slightly less efficient at eating 4- and 6-mm insects. (d) The principle of allocation applies, and no one phenotype can be maximally efficient on all prey types; improving harvesting efficiency on one food type necessitates reducing the efficiency of exploiting other kinds of items. (e) Finally, an individual's economic "goal" is to maximize its total intake of food resources. (Assumptions b, c, and d are not vital to the argument.)
MacArthur (1972) then breaks foraging down into four phases: (1) deciding where to search; (2) searching for palatable food items; (3) upon locating a potential food item, deciding whether or not to pursue it; and (4) pursuit itself, with possible capture and eating. Search and pursuit efficiencies for each food type in each habitat are entirely determined by the preceding assumptions about morphology (assumption c) and environmental repeatability (assumption a); moreover, these efficiencies dictate the probabilities associated with the searching and pursuing phases of foraging (2 and 4, respectively). Thus, MacArthur considers only the two decisions: where to forage and what prey items to pursue (phases 1 and 3 of foraging).
Clearly, an optimal consumer should forage where its expectation of yield is greatest -- an easy decision to make, given knowledge of the previous efficiencies and the structure of its environment (in reality, of course, animals are far from omniscient and must make decisions based on incomplete information). The decision as to which prey items to pursue is also simple. Upon finding a potential prey item, a consumer has only two options: either pursue it or go on searching for a better item and pursue that one instead. Both decisions end in the forager beginning a new search, so the best choice is clearly the one that returns the greatest yield per unit time. Thus, an optimal consumer should opt to pursue an item only when it cannot expect to locate, catch, and eat a better item (i.e., one that returns more energy per unit of time) during the time required to capture and ingest the first prey item.
Many animals, such as foliage-gleaning insectivorous birds, spend much of their foraging time searching for prey but expend relatively little time and energy pursuing, capturing, and eating small sedentary insects that are usually easy to catch and quickly swallowed. In such "searchers," mean search time per item eaten is large compared to average pursuit time per item; hence, the optimal strategy is to eat essentially all palatable insects encountered. Other animals ("pursuers") that expend little energy in finding their prey but a great deal of effort in capturing it (such as, perhaps, a falcon or a lion) should select prey with small average pursuit times (and energetic costs). Hence, pursuers should generally be more selective and more specialized than searchers. Moreover, because a food-dense environment offers a lower average search time per item than does a food-sparse area, an optimal consumer should restrict its diet to only the better types of food items in the former habitat. To date, optimal foraging theory has been developed primarily in terms of the rate at which energy is gathered per unit of time. Limiting materials such as nutrients in short supply and the risks of predation have so far been largely neglected.
Carnivorous animals forage in extremely different ways. In the "sit-and-wait" mode, a predator waits in one place until a moving prey item comes by and then "ambushes" the prey; in the "widely foraging" mode, the predator actively searches out its prey (Pianka 1966b; Schoener 1969a, 1969b). The second strategy normally requires a greater energy expenditure than the first. The success of the sit-and-wait tactic usually depends on one or more of three conditions: a fairly high prey density, high prey mobility, and low predator energy requirements. The widely foraging tactic also depends on prey density and mobility and on the predator's energy needs, but here the distribution of prey in space and the predator's searching abilities assume paramount importance. Although these two tactics are endpoints of a continuum of possible foraging strategies (and hence somewhat artificial), foraging techniques actually employed by many organisms are rather strongly polarized. The dichotomy of sit-and-wait versus widely foraging therefore has substantial practical value. Among snakes, for example, racers and cobras forage widely when compared with boas, pythons, and vipers, which are relatively sit-and-wait foragers. Among hawks, accipiters such as Cooper's hawks and goshawks often hunt by ambush using a sit-and-wait strategy, whereas most buteos and many falcons are relatively more widely foraging. Web-building spiders and sessile filter feeders such as barnacles typically forage by sitting and waiting. Many spiders expend considerable amounts of energy and time building their webs rather than moving about in search of prey; those that do not build webs forage much more widely. Some general correlates of these two modes of foraging are listed in Table 5.1.
Table 5.1 Some General Correlates of Foraging Mode
_______________________________________________________________________
_______________________________________________________________________
Prey type
Eat active prey
Eat sedentary and unpre-
dictable (but clumped or

large) prey
Volume prey captured/day
Low
Generally high, but low

in certain species
Daily metabolic expense
Low
High
Types of predators
Vulnerable primarily
Vulnerable to both sit-and-

to widely foraging
wait and to widely

predators
foraging predators
Rate of encounters
Probably low
Probably high
with predators
Morphology
Stocky (short tails)
Streamlined (generally

long tails)
Probable physiological
Limited endurance
High endurance capacity
correlates
(anaerobic)
(aerobic)
Sensory mode
Visual primarily
Visual or olfactory
Learning ability
Limited
Enhanced learning and

memory, larger brains
_______________________________________________________________________
Source: Adapted from Huey and Pianka (1981).
Similar considerations can be applied in comparing herbivores with carnivores. Because the density of plant food almost always greatly exceeds the density of animal food, herbivores often expend little energy, relative to carnivores, in finding their prey (to the extent that secondary chemical compounds of plants, such as tannins, and other antiherbivore defenses reduce palatability of plants or parts of plants, the effective supply of plant foods may be greatly reduced). Because cellulose in plants is difficult to digest, however, herbivores must expend considerable energy in extracting nutrients from their plant food. (Most herbivores have a large ratio of gut volume to body volume, harbor intestinal microorganisms that digest cellulose, and spend much of their time eating or ruminating -- envision a cow chewing its cud.) Animal food, composed of readily available proteins, lipids, and carbohydrates, is more readily digested; carnivores can afford to expend considerable effort in searching for their prey because of the large dividends obtained once they find it. As would be expected, the efficiency of conversion of food into an animal's own tissues (assimilation) is considerably lower in herbivores than it is in carnivores.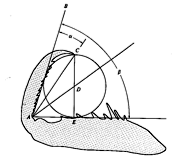 Figure 5.6. Diagram showing how Holling used geometry to calculate an estimated optimal size of a prey item from the anatomy of a mantid's foreleg. Optimal prey diameter, D, is simply T sin (β - α), where T is the distance A to C. [From Holling (1964).]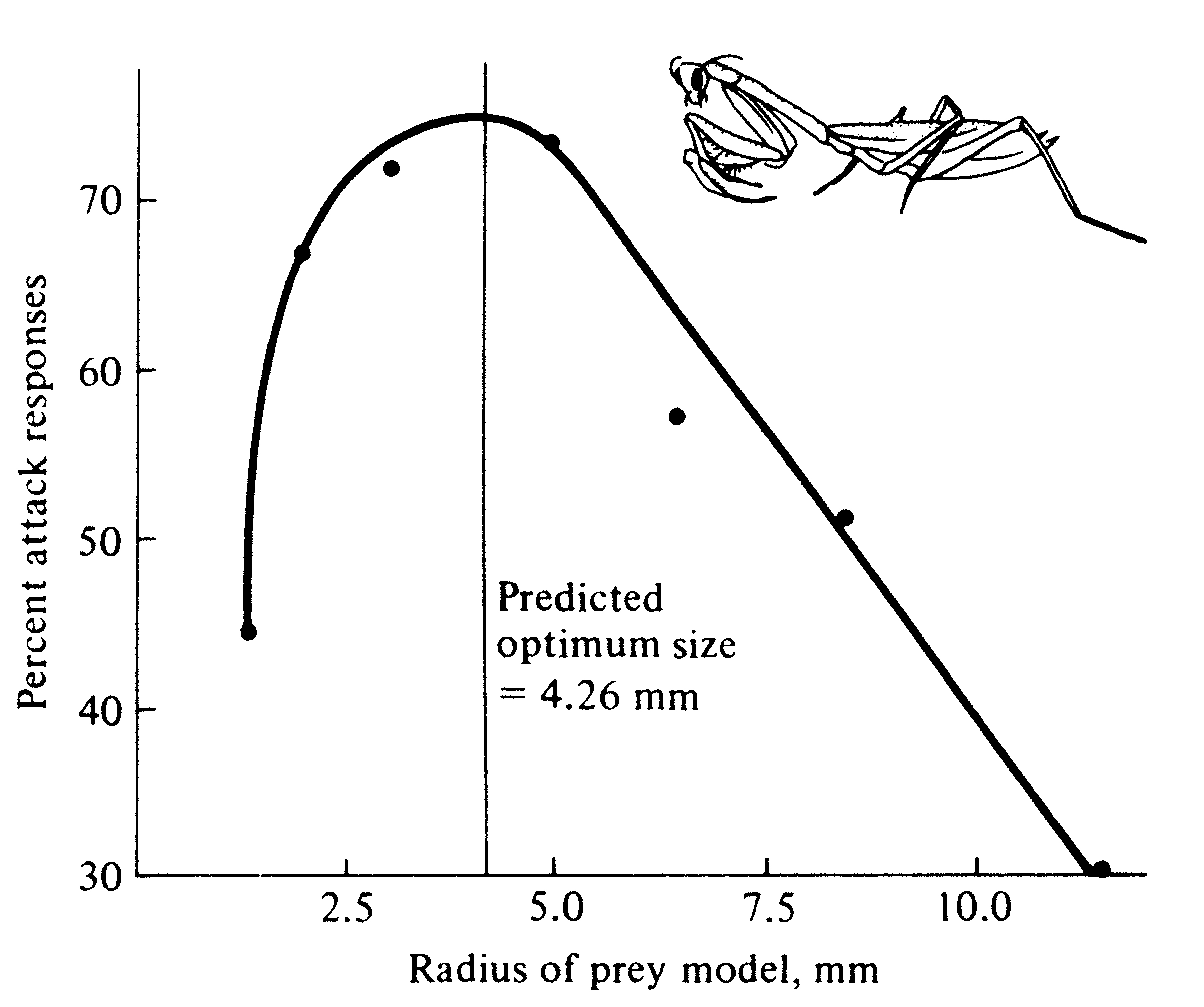 Figure 5.7. The percentage of prey items actually attacked
by hungry mantids versus prey size. [From Holling (1964).]
Many carnivores have extremely efficient prey-capturing devices (see Chapter 15); often the size of a prey object markedly influences this efficiency. Using simple geometry (Figure 5.6), Holling (1964) estimated the diameter of a prey item that should be optimal for a praying mantid of a particular size. He then offered hungry mantids prey objects of various sizes and recorded percentages attacked (Figure 5.7). Mantids were noticeably reluctant to attack prey that were either much larger or much smaller than the estimated optimum. Hence, natural selection has resulted in efficient predators both by producing efficient prey-capturing devices and by programming animals so that they are unlikely to attempt to capture decidedly suboptimal items. Larger predators tend to take larger prey than smaller ones (see Figure 12.12). It may in fact be better strategy for a large predator to overlook prey below some minimal size threshold and to spend the time that would have been spent in capturing and eating such small items in searching out larger prey (see also above). Similarly, the effort a predator will expend on any given prey item is proportional to the expected return from that item (which usually increases with prey size). Thus, a lizard waiting on a perch will not usually go far for a very small prey item but will often move much greater distances in attempts to obtain larger prey.
Because small prey are generally much more abundant than large prey, most animals encounter and eat many more small prey items than large ones. Small animals that eat small prey items encounter prey of suitable size much more frequently than do larger animals that rely on larger prey items; as a result, larger animals tend to eat a wider range of prey sizes. Because of such increased food niche breadths of larger animals, size differences between predators increase markedly with increasing predator size (MacArthur 1972).
Physiological Ecology
The concern of environmental physiology, or ecophysiology, is how organisms function within, adapt and respond to, and exploit their physical environments. Physiological ecologists are interested primarily in the immediate functional and behavioral mechanisms by which organisms cope with their abiotic environments. Physiological mechanisms clearly must reflect ecological conditions; moreover, mutual constraints between physiology and ecology dictate that both must evolve together in a synergistic fashion.
A fundamental principle of physiology is the notion of homeostasis, the maintenance of a relatively stable internal state under a much wider range of external environmental conditions. Homeostasis is achieved not only by physiological means but also by appropriate behavioral responses. An example is temperature regulation in which an organism maintains a fairly constant body temperature over a considerably greater range of ambient thermal conditions (homeostasis is never perfect). Homeostatic mechanisms have also evolved that buffer environmental variation in humidity, light intensity, and concentrations of various substances such as hydrogen ions (pH), salts, and so on. By effectively moderating spatial and temporal variation in the physical environment, homeostasis allows organisms to persist and be active within a broad range of environmental conditions, thereby enhancing their fitness. The subject of environmental physiology is vast; some references are given at the end of this chapter.
Physiological Optima and Tolerance Curves
Physiological processes proceed at different rates under different conditions. Most, such as rate of movement and photosynthesis, are temperature dependent (Figure 5.8). Other processes vary with availability of various materials such as water, carbon dioxide, nitrogen, and hydrogen ions (pH). Curves of performance, known as tolerance curves (Shelford 1913b), are typically bell shaped and unimodal, with their peaks representing optimal conditions for a particular physiological process and their tails reflecting the limits of tolerance. Some individuals and species have very narrow peaked tolerance curves; in others these curves are considerably broader. Broad tolerance curves are described with the prefix eury- (e.g., eurythermic, euryhaline), whereas steno- is used for narrow ones (e.g., stenophagous). An organism's use of environmental resources such as foods and microhabitats can profitably be viewed similarly, and performance can be measured in a wide variety of units such as survivorship, reproductive success, foraging efficiency, and fitness. Figure 5.8. Two plots of performance against temperature. (a) Goldfish swimming speed versus temperature for fish acclimated to different thermal conditions; in most cases, performance peaks near the temperature to which fish are accustomed. [From Ricklefs (1973) after Fry and Hart (1948).] (b) Photosynthetic rate versus leaf temperature in the plant Atriplex lentiformis at two different localities. [From Mooney, Bjorkman, and Berry (1975).]
Performance curves can sometimes be altered during the lifetime of an individual as it becomes exposed to different ambient external conditions. Such short-term alteration of physiological optima is known as acclimation (Figure 5.8). Within certain design constraints, tolerance curves clearly must change over evolutionary time as natural selection molds them to reflect changing environmental conditions. However, very little is known about the evolution of tolerance; most researchers have merely described the range(s) of conditions tolerated or exploited by particular organisms. Tolerance curves are often taken almost as given and immutable, with little or no consideration of the ecological and evolutionary forces that shape them.
Performance or tolerance is often sensitive to two or more environmental variables. For example, the fitness of a hypothetical organism in various microhabitats might be a function of relative humidity (or vapor pressure deficit), somewhat as shown in Figure 5.9a. Assume that fitness varies similarly along a temperature gradient (Figure 5.9b). Figure 5.9c combines humidity and temperature conditions to show variation in fitness with respect to both variables simultaneously (a third axis, fitness, is implicit in this figure). The range of thermal conditions tolerated is narrower at very low and very high humidities than it is at intermediate and more optimal humidities. Similarly, an organism's tolerance range for relative humidity is narrower at extreme temperatures than it is at more optimal ones. The organism's thermal optimum depends on humidity conditions (and vice versa). Fitness reaches its maximum at intermediate temperatures and humidities. Hence, temperature tolerance and tolerance of relative humidities interact in this example. The concept of a single fixed optimum is in some ways an artifact of considering only one environmental dimension at a time.